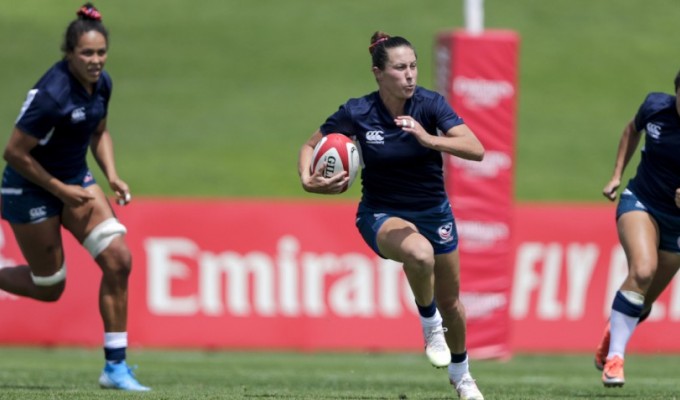 Lauren Doyle has some helpers. Photo Martin Seras Lima.
Sevens tournaments can be fickle and certainly the 2nd leg of the Emirates Invitational 7s in Dubai was that for the USA women.
Despite playing a shade better overall in Pool Play, the Eagles wound up playing for this simply because France beat a somewhat flat-looking Canada in the first game of Day Two. Because of that, France, the USA, and Canada all ended Pool Play with 4-1 records. Points difference was not the USA's friend, so even though they beat France on Thursday and had beaten France twice the week before, the Americans played Brazil for 3rd instead of playing in the final.
France 29 Canada 10
The 9AM kickoff wasn't kind to Canada, which had looked really strong in Tournament #1 and on Day One of Tournament #2. France signaled their intention to run early and put the pressure on. Canada knocked on in a ruck near their goalline a couple of minutes into the game and from the ensuing scrum France ran a nifty weakside-to-openside shift play for Anne Cécile Ciofani to score under the posts. France's restart went into touch on the full, but Canada squandered their free kick with a needless ruck penalty and quickly Ciofani cut through for her second. That made it 12-0 and soon it was 19-0.
Physicality in the tackle jogged the ball loose and some truly great support work set it up for Ciofani to dive over for her third. Canada's defense was scrambling and disorganized and they didn't like being hit as hard as France was hitting them. The result was a 29-10 thrashing.
USA 31 Japan 0
Up against it, the USA needed to run up the score now against … well … everyone. They didn't. They opened well against Japan with a powerful run from Cheta Emba and offload to Nicole Heavirland putting Heavirland in at the corner. She kicked the conversion, too, and it was 7-0. But then mistakes and penalties kept giving Japan the momentum, and it wasn't until the last play of the first half that they finally found space for Steph Rovetti to go over in the corner. 
Up 14-0 the Eagles needed to ramp up their scoring. They didn't know it at the time, but they had to guess, that they needed a big score against both Japan and Kenya, probably on the order of 40 points, to uverhaul Canada or France. They got started early when Kristi Kirshe sold a dummy and went up the middle from the back of a ruck. That passage of play was sloppy, and the sloppiness was rescued on several occasions by the hardworking Heavirland, who added the conversion.
An interception from Kasey McCravey set up Lauren Doyle, and Alena Olsen finished off a long period of play. But it ended 31-0, and that likely wasn't enough.
USA 22 Kenya 10
By this point all the numbers were know. France was 4-1 with a points difference of +100 and Canada was 4-1 with a points difference of +93. The USA was 3-1 with a points difference of +43, meaning the Eagles needed to win by 51 to make the final. In fact, though, Kenya had the USA on the back foot for the first part of the game before Rovetti went on a break. She was caught and the ball stolen, however. and only a forward pass kept the Eagles in scoring range. From that scrum they finally got it to Kris Thomas, who scored.
But it was all too slow. The USA players were going into contact way too much and their passing, once crisp and flat, was now loopy and high—a sure sign of fatigue. Right off the restart Abby Gustaitis scared a Kenyan player into dropped the ball, Thomas picked and ran, and then they went wide where Kirshe and Doyle passed back and forth for Doyle to score. It was 15-0 at halftime, but it had been far too much of a slog.
It was more of a slog after Kenya outpace the Eagles on the outside for a try. Kirshe battled over for one more but Kenya got the last laugh and instead of a 51-point drubbing it was a 12-point war.
France 17 Canada 12
France followed the same formula in the final, hitting Canada hard and using the attacking flair of Ciofani and Coralie Bertrand to take the tournament title.
USA 26 Brazil 19
The USA took 3rd place with a workmanlike performance. Clearly everyone was just gassed on all the teams. Two weeks in Dubai and a lot of very tough games took their toll. Thomas was once again someone to clean up another's mess and turn it into a try—that's how she opened the game. But Jordan Matyas was caught just a little late to fill a gap and a flat pass, maybe a shade forward, put Brazil through a gap for a try under the posts. That's right, they were in a rugby game.
Thomas was off the races from the restart but was called back for a forward pass that looked just fine—Thomas couldn't believe it. But in the end silly USA penalties kept them from getting out of trouble and, when they did get out of trouble, from scoring. Finally, after a quick tap from Matyas, the Eagles got a 2-on-1 and Gustaitis passed to Thomas for her second of the game. That made it 12-7 at halftime, and after a period of defending, the USA got a penalty, Kirshe tapped and ran, and the ball was worked out to Gustaitis who cut back in under the posts. McCravey converted and finally the USA had breathing room at 19-7. They got even more after Olsen flipped a pass while being laid out and Sui A'au finished it off.
So it wasn't really that close. The Eagles led 26-7 with about two minutes to go and while no coach wants to see a team leak tries late, Brazil had too far to go.
Epilogue
Good moments and valuable playing time showed that the USA has a powerful runner in Cheta Emba, and two veterans who link it all together in Heavirland and Thomas, but they go into far too much contact to fully utilize their running ability, and as they got tired their tackling, their power in the tackle, and, most of all, their passing suffered.
Loopy slow passes are a gift to a defense, and they hurt the USA cause. Still, if you get Ilona Maher and Alev Kelter back in this team you've got something.
All Day Two Games: