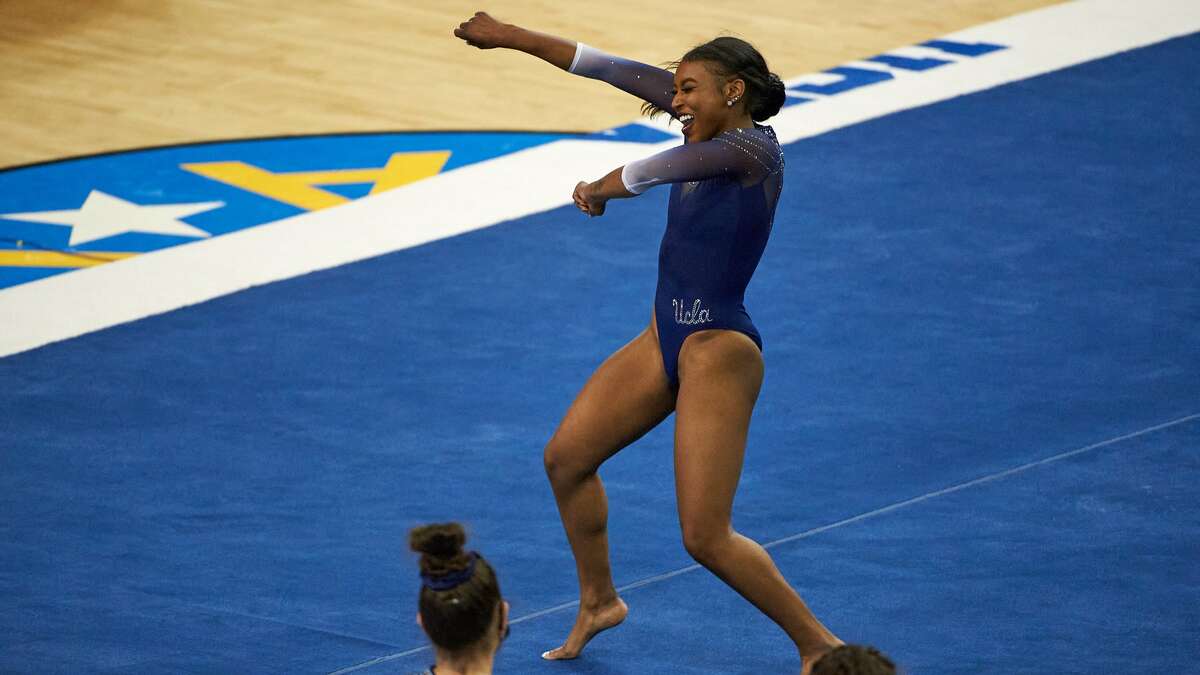 Many people will agree that UCLA gymnast Nia Dennis is definitely one to watch when she hits the floor mat.
Photo courtesy of UCLA Gymnastics via Twitter
Nia Dennis is a name you'll want to remember, not that it'll be easy to forget.
The now 21-year-old University of California-Los Angeles gymnast became an Internet sensation in 2020, putting on a "homecoming performance that would make Beyoncé proud." The routine consisted of a mashup of songs from the Houston entertainer's Homecoming: The Live Album.
FOR THE CULTURE: Simone Biles talks the pandemic, the Olympics and growing up in August issue of Vogue
In case you haven't stumbled across it (yet), Dennis is at it again.
Her latest routine is being widely circulated across social media, garnering more than 75,000 retweets, comments and likes on UCLA Gymnastics' official Twitter page so far.
"This routine definitely reflects everything that I am today as a woman, and of course I had to incorporate a lot of parts of my culture," Dennis shared with Los Angeles Daily News' Haley Sawyer.
In a routine that featured tracks from Kendrick Lamar, Missy Elliot, Soulja Boy, Tupac and Houston's own Megan Thee Stallion, we watch Dennis do something I most certainly cannot. She manages to Crip walk, Woah and Dougie, among other movies, all while landing the most perfect flips — effortlessly.
It's most certainly what "Black excellence looks like," which UCLA can attest to.
The routine has managed to capture the attention of some pretty well-known individuals, including America's most decorated gymnast and Houston native Simone Biles.
"okay @DennisNia do the d— thing girl *fire emoji* this was so fun to watch! keep killing it!" Biles tweeted.
The judges were clearly just as impressed, because they awarded Dennis a nearly perfect score of 9.95 out of 10.
It's been surreal for the creative gymnast, to say the least.
"I am overwhelmed with happiness and joy, thank you everyone for such positive messages, it means the world to me to have your support," Dennis tweeted. "this is so surreal i can't even believe it! much love always.. -xx nations."