Marigolds, known in Mexico as "the flower of the dead" for a scent believed be strong and sweet enough to attract souls and draw them back, are generally all around by mid-October as the Day of the Dead approaches.
But with the country exceeding 85,700 official deaths from the coronavirus pandemic this year, the bright, orange color has not been as prominent as Mexican authorities have said cemeteries will remain closed for the 2 November celebration, Reuters reports.
"There have been a lot of losses this year," said Concepcion Cruz, who cultivates marigold in Mexico City.
She said only about half as many of the flowers are being grown this year as would have been planted normally for the annual holiday.
Ratcheting back the celebrations is a sacrifice that must be made if Mexico is to curb the spread of the pandemic, said Columba Lopez, director of Mexico City's Commission for Natural Resources and Rural Development.
"People have to stay at home," he added.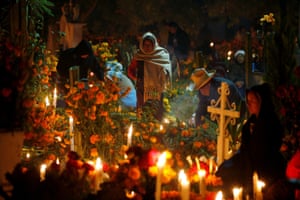 Indigenous people are seen by the graves of their relatives during an annual Day of the Dead celebration, in Santa Maria Atzompa, Oaxaca, Mexico, on 1 November 2019. Photograph: Jorge Luis Plata/Reuters
The Day of the Dead tradition blends Catholic rituals with the pre-Hispanic belief that the dead return once a year from the underworld.
Cemeteries, public gardens and houses light up in the bright, orange color as marigolds are planted everywhere in October.
In their homes, Mexicans build altars adorned with photographs of the deceased, marigolds, candy sculls, papier-mâché skeletons and chocolate coffins.
The dead are also offered their favorite food, pastries, tequila and cigarettes – or whatever might entice them to return from the underworld.
With cemeteries closed but more dead to remember this year, Mexicans are planning more private remembrances for their loved ones.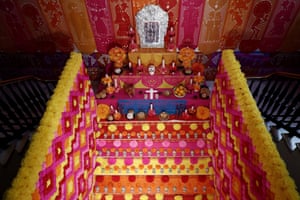 A general view of the 'Altar de muertos' (lit. 'The Altar of the Dead') at the main stairs of the headquarters of the House of Mexico in Madrid, Spain, 17 October 2020. Photograph: Mariscal/EPA
People in England who have been told to self-isolate through NHS test and trace could have their contact details passed to police, a move some fear could deter people from being tested for coronavirus.
Police forces will be able to access information about people "on a case-by-case" basis, so they can learn whether an individual has been told to self-isolate, the Department of Health and Social Care (DHCS) said.
Full story below.
Irish ministers will meet again early next week to decide whether to tighten Covid-19 restrictions, a senior minister has said, Reuters reports, after a meeting today with health chiefs recommended a return to national lockdown.
Micheál Martin, the prime minister, said on Friday that further action is needed to slow the spread of the virus. Local media reported that health chiefs had renewed their calls for a second national lockdown that the cabinet rejected two weeks ago.
Ireland broke its record for the number of cases recorded in a single day for the fourth time in the space of a week on Saturday with 1,276 new infections bringing cases per 100,000 people in the past 14 days to 232.
It had the 12th highest 14-day rate among the 31 countries monitored by the European Union's independent European Centre for Disease Prevention and Control, according to data collated on its website.
Israel to ease lockdown from Sunday
Israel is preparing to ease some lockdown restrictions from Sunday in the first phase of scaling back measures imposed last month to stem soaring coronavirus infection rates.
"We will exit [lockdown] carefully this time, in line with the plan set out by the experts at the health ministry," prime minister Benjamin Netanyahu told reporters on Saturday evening.
The easing of some of the rules, in force since 18 September as part of a second lockdown in six months against the pandemic, had been approved on Thursday by Netanyahu's government, contingent on new cases not increasing beyond 2,000 per day.
On Friday, there were 1,695 new cases, according to official figures, down from around 8,000-9,000 per day at the end of September, Agence France-Presse reports.
"If everyone follows the rules, I am sure that it will work," the prime minister added.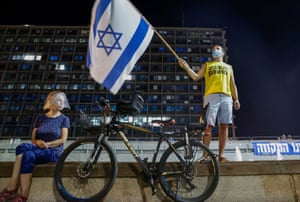 Israeli protesters, wearing protective gear due to the coronavirus pandemic, take part in a demonstration against prime minister Benjamin Netanyahu in the coastal city of Tel Aviv. Photograph: Jack Guez/AFP/Getty Images
The lifting of restrictions is scheduled to take place in several phases, through to February 2021.
Israel, a country of about nine million people, has recorded 301,896 coronavirus cases, including 2,141 deaths, as of data released on Friday.
The government faced widespread criticism when cases surged after the country exited an initial weeks-long lockdown earlier this year.
One key measure set to be lifted on Sunday is a restriction on people moving more than one kilometre (less than a mile) from their home.
That rule sparked anger from some Israelis who claimed it was designed to stem protests against Netanyahu.
Children's nurseries, as well as beaches and national parks, are set to reopen.
People will also be able to visit friends or relatives, as long as gatherings remain no more than 10 if inside, and 20 outside.
But the lockdown will remain in place until at least midnight Wednesday in some areas designated "red", mainly those with high ultra-Orthodox populations, where infections remain high, according to authorities.
Anti-lockdown demonstrators gathered in central London on Saturday, hours after the British capital moved to the second highest Covid-19 alert level.
As a second wave of infections gathers pace, prime minister Boris Johnson's government has stepped up local restrictions in parts of England where cases are surging – hoping to shield the economy by allowing the least-affected regions to remain open.
As of midnight, London was moved to the "tier 2" or "high-risk" level.
This bans people from meeting anybody outside their household or "support bubble" – including friends or relatives who help to care for children – in any indoor setting.
The rules also forbid more than six people to meet outdoors, though the police chose not to enforce them as several thousand anti-lockdown campaigners marched down Oxford Street, usually one of the world's busiest shopping streets.
The protesters view Covid-19 restrictions as unnecessary and a breach of their human rights. Some oppose mask-wearing and vaccinations.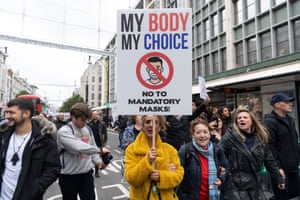 Protesters take part in the March For Freedom demonstration organised by Stand Up X, on 17 October 2020 in London, United Kingdom. Photograph: Ray Tang/REX/Shutterstock
Some carried placards saying: "MY BODY MY CHOICE, NO TO MANDATORY MASKS."
"There's plenty of things that can kill you, you know, it could happen any day," protester Aragorn Kyley, 17, told Reuters.
"It's about living, not just surviving. We want to be able to enjoy our lives, not just be stuck at home."
As of Saturday, 57% of the UK's population was living under tighter coronavirus-restrictions.
However, scientists from the Sage group that advises the government, and the main opposition Labour party, want ministers to go further and impose a short nationwide lockdown or so-called "circuit breaker" to halt the spread of the disease.
Cyprus registered a daily record of 203 new coronavirus infections on Saturday, health authorities said, urging the public to stick to strict health protocols at a crucial point in tackling the pandemic.
The east Mediterranean island had largely kept a lid on cases by introducing an early lockdown in March, which was eased from early May onwards, Reuters reports.
After a relatively uneventful summer, cases started surging in the early part of this month.
"We are at possibly the most crucial point in the pandemic, and a possible increase in cases will, unavoidably, lead to the worst-case scenario; that unfortunately we will start counting victims, which is of course something nobody wants," the health ministry said in a statement.
Authorities ordered that restaurants, bars and cafeterias in the populous Limassol district in the south close by 10.30pm from Sunday until at least 26 October.
Cyprus has registered 2,581 coronavirus cases since March and 25 deaths.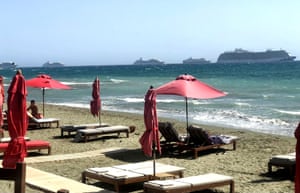 Grounded international cruise ships are docked off the coast of the southern Cypriot port of Limassol on 7 October. Photograph: Haro Chakmakjian/AFP/Getty Images
France reports new record rise in cases
The French health ministry reported a record number of 32,427 new confirmed cases of Covid-19 on Saturday, after reporting 25,086 on Friday.
The total number of infections since the start of the year now stands at 867,197 while the total number of deaths stands at 33,392, up by 90 from Friday.
Pubs and restaurants in one of London's main hotspots were bustling on Saturday but businesses admitted they do not know how to enforce the latest restrictions.
The English capital was placed into tier 2 lockdown measures at midnight on Friday, meaning it is now illegal for Londoners to socialise indoors with people outside their household.
Soho, famous for its thriving nightlife, was pedestrianised when the national lockdown started to lift at the start of summer so its eateries and bars could set tables up in the street.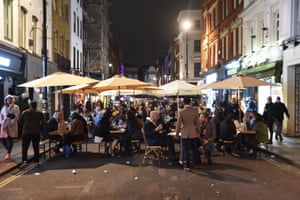 People dine out in London's Soho neighbourhood before 10pm. Photograph: Jack Dredd/REX/Shutterstock
Some said they had seen a slight drop in customer numbers compared to last weekend, but said it could be down to the falling temperatures rather than the latest measures.
One member of staff, who asked not to be named, at the Greyhounds Pub on Greek Street told the Press Association he now had to ask everyone sitting inside if they came from the same household.
"I ask them but it's just not practical, I have no way of checking unless I ask everyone to give me their address," he said.
A waiter at L'Antica Pizzeria Da Michele on Old Compton Street said they could no longer take bookings as a result of the changes, and relied on walk-ins.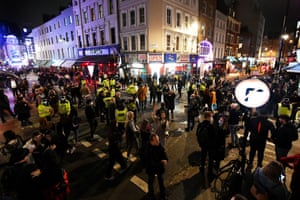 Police disperse people on Old Compton street in Soho at the 10pm curfew on 16 October, the night new tier 2 lockdown restrictions came into force in London. Photograph: James Veysey/REX/Shutterstock
Despite that, he said the restaurant had been at its "busiest for months" on Friday.
Door staff at Comptons, a nearby pub, said they were also having to rely on people's honesty when it came to making sure customers sitting inside were all from the same household.
One member of staff said they had been very lucky so far in terms of customer numbers, but were worried about what would happen when the weather turned colder.
Earlier in the day, anti-lockdown protesters marched down Oxford Street before congregating in nearby Leicester Square to demonstrate against the restrictions.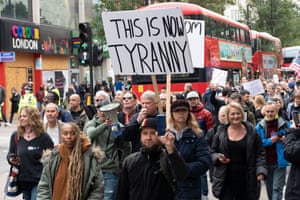 Protesters take part in the March For Freedom demonstration organised by Stand Up X in London. The group are against the Covid-19 restrictions, including the wearing of face masks and the erosion of civil liberties. Photograph: Ray Tang/REX/Shutterstock
Led by Piers Corbyn, brother of former Labour leader Jeremy Corbyn, protesters yelled at passers by to remove their masks, telling them any Covid-19 vaccine would be "poison".
Many of those on the march headed to Soho's pubs at the end of the demo.
The US Centers for Disease Control and Prevention (CDC) on Saturday reported 8,028,332 cases of the new coronavirus, an increase of 70,078 from its previous count a day earlier, and said the number of deaths had risen by 1,001 to 217,918.
On Friday, the US reported more than 69,100 new cases, the most in a single day since about 71,300 were reported on 29 July, according to Johns Hopkins University data.
Ten states on Friday reported their highest one-day case counts: Colorado, Idaho, Indiana, Minnesota, New Mexico, North Carolina, North Dakota, West Virginia, Wisconsin and Wyoming, according to Johns Hopkins.
The governor of New York, Andrew Cuomo, announced on Saturday that cinemas in the state outside of New York City would be able to reopen from 23 October at 25% capacity with up to 50 people per screen.
"New York broke a new testing record yesterday," Cuomo wrote on Twitter, "with over 159,000 tests reported. We do more testing than any other state in the country. For context, the entire country of France reported just under 200,000 tests yesterday."
New York state still has the highest death toll of all US states, with 33,347 confirmed coronavirus fatalities so far, followed by Texas, California, New Jersey and Florida.
The governor of Italy's southern Campania region has blasted the Halloween holiday as a "stupid American extravagance" and a "monument to imbecility", as he announced a 10pm curfew in Naples and the surrounding region over Halloween weekend.
Vincenzo De Luca blamed "irresponsible" young people for Campania's surge in infections, and this week closed schools for in-person learning for two weeks, the Associated Press reports.
While Italy has long celebrated the religious holidays of All Saints and All Souls, Halloween has only taken off in the last generation, most strongly in the Italian south.
Campania was largely spared the first wave of Covid-19, but the region is now one of the worst-hit in Italy and is reaching a critical stage given it has far fewer hospital beds, intensive care units and medical personnel than other regions of a similar size.
De Luca won praise — and another term in office — for taking a tough line to keep infections down during Italy's initial outbreak.
But his decision to shift all learning online prompted criticism from the education minister and protests from parents.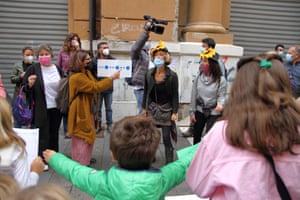 Parents, children and teachers gathered to protest against the schools closure and call for the reopening of all schools in Naples, Italy. Photograph: Pasquale Senatore/Pacific Press/REX/Shutterstock
World sees record 400,000 new cases in a single day
Global coronavirus cases rose by more than 400,000 for the first time late on Friday, a record one-day increase as much of Europe enacts new restrictions to curb the outbreak.
Europe, which successfully damped down the first surge of infections, has emerged as the new coronavirus epicentre in recent weeks and is reporting on average 140,000 cases a day over the past week.
As a region, Europe is reporting more daily cases than India, Brazil and the US combined.
Of every 100 infections reported around the world, 34 were from European countries, according to a Reuters analysis.
The region is currently reporting a million new infections about every nine days and has reported more than 6.3 million cases since the pandemic began.
Major European countries – the UK, France, Russia, the Netherlands and Spain – accounted for about half of Europe's new cases in the week to 18 October.
France is reporting the highest seven-day average of new cases in Europe with 19,425 infections per day followed by the United Kingdom, Russia, Spain and the Netherlands in the list of worst affected European countries.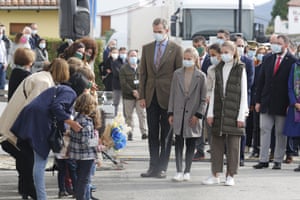 King Philip VI and Queen Letizia, together with Infanta Sofia and Princess Leonor, visit Somao, Spain, which has been honoured as the 2020 Best Asturian Village. Photograph: Europa Press News/Europa Press/Getty Images
Several European countries are closing schools, cancelling elective surgeries and enlisting student medics as the authorities face a Covid-19 resurgence.
Russia is moving students to online learning and Northern Ireland is closing schools for two weeks and restaurants for four.
In Spain, authorities in Catalonia ordered bars and restaurants to close for 15 days and limited the numbers of people allowed in shops.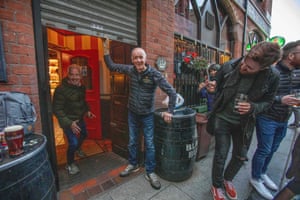 Bittles bar owner John Bittles closes his pub in Belfast on 16 October, 2020, as Northern Ireland imposes tighter coronavirus restrictions on the hospitality sector amid an uptick in Covid-19 cases. Photograph: Paul Faith/AFP/Getty Images
The Czech Republic has also shifted schools to distance learning and plans to call up thousands of medical students. Hospitals are cutting non-urgent medical procedures to free up beds.
Polish health officials have warned the country is on the brink of a disaster as a record 6,526 new coronavirus infections and 116 deaths were reported this week.
Poland is ramping up training for nurses and considering creating military field hospitals.
Latin America is the worst-affected region with about 27% of total Covid-19 cases followed by Asia, North America and Europe.
India is reporting fewer cases this month compared with September, with 69,000 cases per day.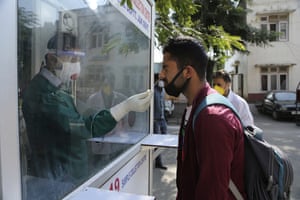 A health worker collects a nasal swab sample to test for Covid-19 at a government hospital in Jammu, India. Photograph: Channi Anand/AP
The numbers have fallen by more than 20,400 over the last three weeks, down 22% from its previous peak. India reported 55,342 cases on 13 October, its lowest daily increase since 18 August.
In the US, which has the largest total number of cases and deaths in the world, new infections are edging higher along with the most hospitalised Covid-19 patients since early September.
Wales circuit breaker to begin on 23 October, leaked letter says
Here some more detail on a two-week circuit-breaker lockdown in Wales, which is expected to come into effect next week.
The lockdown is due to begin at 6pm on 23 October and to last until 9 November, and will see all but essential retail outlets close.
The details of the plan were contained in a letter from a regional director of the Confederation of Passenger Transport to its members in Wales, which was posted on Twitter.
In the letter, dated 16 October, John Pockett writes:
The Welsh Government will announce on Monday a 'circuit break' lockdown to begin at 1800 on Friday 23 October and continue in force until 0001 on Monday 9 November.

We have met with officials this morning, but as this is a very fast moving situation with decisions still to be made by ministers, much of the detail has not yet been agreed by the Government.

Nevertheless I wanted to let you know what we know so far.
Pockett said the lockdown would "take us back to the situation in March" when pubs, cafes, restaurants and hairdressers were closed, and that "some schools" would reopen on 2 November.
"Ministers have not yet determined the details on this; it seems that primary schools will reopen, but a decision on secondary schools (or at least some or part of individual schools) will be made over the weekend," he said.
Public transport would be for "essential journeys only" and the Welsh government was yet to decide what level of services would run during the lockdown, he added.
Pockett told the Press Association the letter was genuine, but said he was "surmising" what would happen.
The letter is genuine and it contains what I assume or surmised would be the position. It was me advising my bus operator members to be prepared for something and this is what it may well be. It could be more; it could be anything. I think other associations have communicated with their members in the same way.
On Friday, first minister Mark Drakeford said the Welsh government was looking "very carefully" at introducing a circuit-breaker lockdown with a decision due to be announced on Monday.
Local lockdowns are in force in 17 areas of Wales affecting more than 2.3 million people but had not slowed the spread of the virus enough, he said.
A travel ban preventing people from areas of the UK with high levels of coronavirus from entering Wales came into force on Friday.
A Welsh government spokesperson said:
The measures we have put in place at both a local and a national level, with help from the public, have kept the spread of the virus under check.

However, there is a growing consensus that we now need to introduce a different set of measures and actions to respond to the virus as it is spreading across Wales more quickly through the autumn and winter.

We are actively considering advice from Sage and our TAC Group. A 'fire break' set of measures to control Covid-19, similar to that described in the Sage papers, is under consideration in Wales.

As the First Minister set out in his press conference on Friday, we have discussed this advice with stakeholders and partners. But no decisions have been made.