By: Lifestyle Desk | New Delhi | October 6, 2020 8:00:11 pm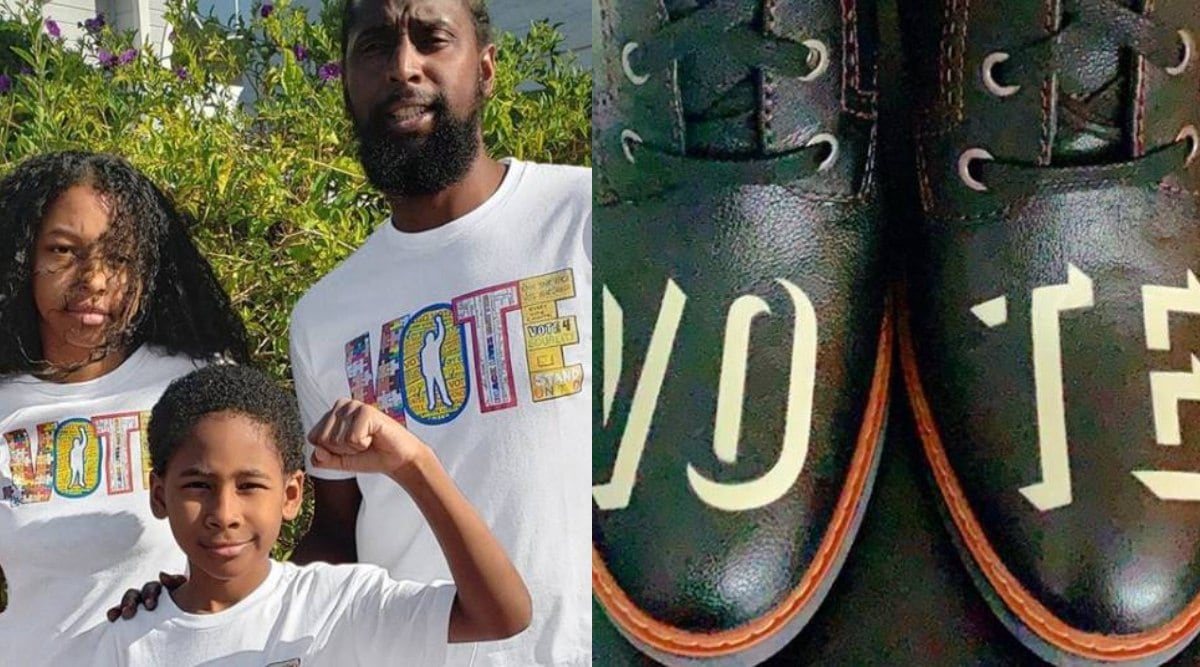 'Vote' merchandise is the latest fashion trend. (Source: gap/Instagram, naturalizer/Instagram)
When Michelle Obama urged all Americans to vote at the Democratic National Convention, apart from her powerful speech, what also drew attention was the 'VOTE' necklace she was seen wearing, soon after which the piece of jewellery became viral.
In the wake of the US election campaign, 'vote' merchandise has emerged as the latest trend. Several fashion brands bringing out products, from t-shirts to masks, customised to feature "vote" slogans, to do their bit in encouraging young people to exercise their voting rights. Here are some of them:
Levi's
The much-loved denim brand recently launched a VOTE PSA (public service announcement) with Hailey Baldwin, apart from other A-listers and activists. In the video, Baldwin and other stars are seen in "vote" outfits. They have launched tees and hoodies with the word 'vote and other customisable options featuring phrases like "Don't Just — About it, Vote About It".
https://images.indianexpress.com/2020/08/1×1.png
Stella and Bow
The Los-Angeles jewellery brand launched a limited-edition "voter" necklace in partnership with the non-partisan organisation 'I am a voter'. Celebrities like comedian Chelsea Handler have already been spotted wearing it.
 

View this post on Instagram

 

Today is the 100th anniversary of the ratification of the 19th Amendment — a celebrated milestone of suffrage and equal rights for women in the US. But Native, Black, Asian and Latinx women were still kept from exercising their right to vote long into the 20th century. These groups are still faced with voter suppression and underrepresentation. Today I want to celebrate the organizers and leaders who got us here, remember how far we have come, and how much further we still have to go. #Vote #2020

A post shared by Chelsea Handler (@chelseahandler) on Aug 18, 2020 at 4:08pm PDT
Naturalizer
Not just jewellery and clothes, even footwear brands like Naturalizer are entering into collaborations for making "vote" merchandise. The brand teamed with Rebecca Lee Funk, founder of the activist network The Outrage, to launch a limited-edition boot featuring the word "vote".
Read| How fashion, makeup brands are playing their part in the US elections like never before
 

View this post on Instagram

 

It's the word #Vote for me. Thank you @naturalizer for the boots I will stomp in on my way to the polls on #NovemberThird OR to my mailbox three weeks before to ensure that my vote is counted! ️ #Repost @naturalizer with @make_repost ・・・ Today We Will VOTE // It's here! Introducing Naturalizer x The Outrage exclusive collab. We teamed up with The Outrage — whose mission of equality and female empowerment is right up our alley — to create a limited-edition VOTE boot with the goal of empowering women everywhere to exercise their power at the polls in November. Be the first to snag one of 1,000 pairs of this limited-stock hand-painted boot benefitting nonpartisan, nonprofit She Should Run. Let's raise our collective voices to inspire tomorrow today. #TODAYWEWILLVOTE

A post shared by Yvette Nicole Brown (@yvettenicolebrown) on Aug 16, 2020 at 8:58pm PDT
Michael Kors
This brand recently announced that it was donating 100 per cent of the profits from the sale of its "vote" tee, to NAACP Legal Defense Fund, America's premier legal organisation fighting for racial justice.
 

View this post on Instagram

 

Vote! #MKSaysVote Our new T-shirt is a reminder that your voice, and your vote, can make a difference in the upcoming 2020 presidential election. Head to your local store or MichaelKors.com to shop and make your voice heard. (U.S. only) 100% of the profits from this T-shirt, which were produced in partnership with @shopfksp, will support the @naacp_ldf, America's premier legal organization fighting for racial justice. #YourVoiceMatters #MichaelKors

A post shared by Michael Kors (@michaelkors) on Sep 1, 2020 at 1:22pm PDT
Gap
This clothing brand has come up with new vote-themed tees and face masks, designed by Stephennie Factor, a member of the company's African American Networking Group. It is also donating USD 25,000 (Rs 18,33,065) to nonpartisan and non-profit partners When We All Vote and Rock the Vote.
 

View this post on Instagram

 

What do you stand for? And how do you stand for it? Here's how a couple of our Gap HQ employees & their family members answered (pictured left to right.)​ .​ Eric H: "I stand for creating community and promoting education by lending professional expertise to foster institutional change within the community college system by increasing access of students of color, employing student centered strategies to promote a sense of community which leads to student success." . Crystal P: "Inclusivity & Empowerment. I stand for it by speaking up and using my voice/privilege, especially in front of my daughter. How I support her and show up as her biggest ally will shape her self-worth, self-esteem & sense of what's right & wrong in the world." ​ .​ Steph W: "I stand for approaching life with empathy and inclusivity by making everyday choices that take responsibility for my community. And by thoughtfully participating in challenging conversations."​ .​ Greggy A: "I stand for finding and recognizing your voice and using it." . Head to our link in bio to shop VOTE tees for the whole family.

A post shared by Gap (@gap) on Sep 12, 2020 at 9:37am PDT
For more lifestyle news, follow us: Twitter: lifestyle_ie | Facebook: IE Lifestyle | Instagram: ie_lifestyle
The Indian Express is now on Telegram. Click here to join our channel (@indianexpress) and stay updated with the latest headlines
For all the latest Lifestyle News, download Indian Express App.
© IE Online Media Services Pvt Ltd